Our most important responsibility is to work alongside parents and churches to nurture students who will examine all of life with a Christian worldview and who are willing and ready to change their culture for Christ.
Our middle/high school is a unique campus for all the right reasons. On annual student and parent surveys, the most common word used to describe Jackson Christian School is "family." Students love the family atmosphere that permeates our school. They value teachers who care about every area of their lives and inspire them to do their personal best. Along with being challenged academically, students are encouraged to seek God with all their heart, soul, mind and strength, and to love their neighbor - fellow students and community - as themselves.

Spiritual Life
Spiritual Life at JCS is best describes as a greenhouse for student spiritual development. JCS is a warm environment with rich soil so that children can develop healthy "roots." By offering an environment where they can test and prove their faith, they are prepared for the harshness of our culture and are not easily swayed away from God's truth, which they have come to know and love.
Equipping Students Spiritually

Weekly Chapel, Bible Class, Class retreats, Community Charters and special Spiritual Emphasis Weeks are part of the JCS Experience. Daily classes that encourage deeper knowledge of God's word, weekly chapel that helps students apply what they are learning and special events to strengthen their faith, all work together to deepen their walk and equip them spiritually.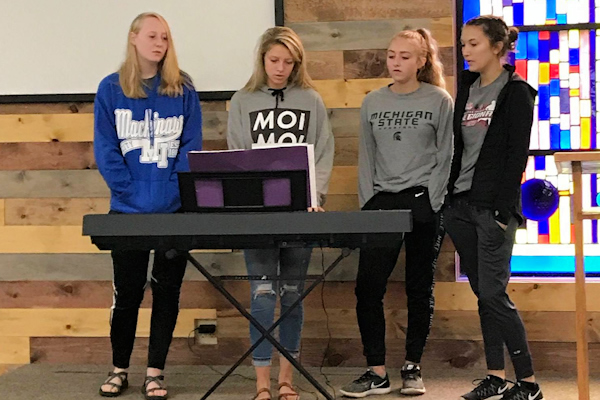 JCHS is characterized by rigorous curriculum, high expectations, and teachers who are dedicated to the individual success of each student. We choose to remain focused on the foundational tenants of education. We have found that our focus continuously produces students who are well prepared for the academic demands of college.
Year after year more than 90% of graduating senior pursue college degrees. Feedback from JCS alumni confirms that we commonly graduate students who are "wordsmiths", meaning they are known for superb written and verbal communication skills which often place them ahead of their peers.
JCS University - College Courses on the JCS Campus
JCS high school students have significant opportunities to earn college credits while in the classroom. Many of our faculty members are adjunct professors with Spring Arbor University, Baker College and Kendal College of Art and Design of Ferris State University. As adjunct professors they teach college courses to qualified juniors and seniors during the normal school day. JCS graduates often have earned enough college credit to equal a college semester or more. Details on JCS University Courses
Credit Requirements & Summary Sheet
Please review the credit requirements for JCS. Keep track of your class credits with this Credit Summary Sheet.
Reading
JCS uses the Accelerated Reader™ Program (AR) and the JCS Required Reading Program as tools to help develop students into avid readers.
JCS has a yearly required reading list for high school students. We require the equivalent of two books each year.
The transition years of Middle School provide a great opportunity to "equip" students with the academic knowledge and life skills needed for high school success. Faculty who are especially gifted with middle school age students help them achieve their academic best. Our curriculum includes time management skill development, allowing students to progressively develop the organizational and accountability skills necessary as their work load and expectations increase.
Students perform better academically when they are empowered to relate well and with respect towards one another. Middle School years are often characterized by adults as the most difficult years of school. We purposefully address relationship challenges by equipping students with biblical tools to cultivate healthy peer relationships. Class Charters, special courses, and retreats all focus on developing God-honoring relationships which improves our student's ability to succeed academically.
For Middle & High School Students
Jackson Christian Schools' standard for the formatting of research papers is the MLA Guide. The MLA format applies to all courses with the exception of papers written for Anatomy and Physiology and AP Environmental Science.
The APA Guide is the accepted format for use in the upper level science courses of Anatomy and Physiology and AP Environmental Science.
All students are responsible to understand the definition of Plagiarism as defined in the document "What is Plagiarism." Plagiarism is a serious matter. Students are expected to respect the work of others, to give credit where it is due and are held accountable regarding these standards.
Your Child's education has significant impact.
An education from JCS advances wisdom and equips children to stand firm in their faith.